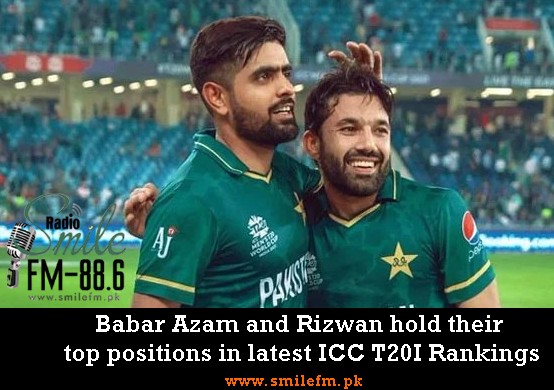 Babar Azam and Rizwan on top position latest T20 Rankings
825 total views
News Desk: Babar Azam and Rizwan on top position latest T20 Rankings. They have retained their top positions in the ICC Cricket T20.
Babar Azam and Rizwan on top position latest T20 Rankings: Latest Update by ICC
An International Cricket Council (ICC) had announced its updated cricket batting rankings for all three formats T20, IDO, and Test cricket. In this report, two Pakistani favorite players had secured their top positions in ICC men's T20 successfully. An opening pair namely Top Cricket Stars Babar Azam and Mohammad Rizwan are dominating in the ICC Men's T20 batting ranking.
Similarly, Babar Azam has 805 points, and Rizwan has 798 points. Muhammad Rizwan is ahead of South African classical batsman namely Aiden Markram who is securing has 796 points. While Babar Azam has led over 7 points from his pair Rizwan.
Moreover, The top player of the Pakistani cricket team namely Babar Azam also holds the top position in the ICC ODI Men's Batting Rankings with leading 873 points while former Indian captain Virat Kohli has 811 points.
Conclusively, Pakistani left-hander batsmen namely Fakhar Zaman has been ranked in the top 10 ODI on the number sixth as best ODI better with 741 points, Zaman is the sixth best ODI batter.