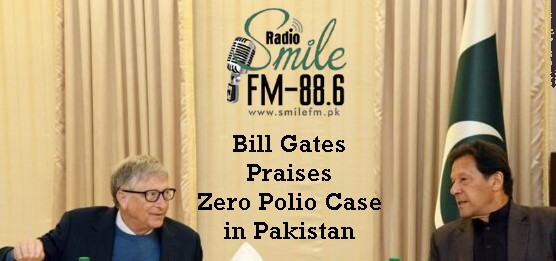 Microsoft Bill Gates Praises Zero Polio Cases in Pakistan
543 total views
News Desk: Microsoft Bill Gates Praises Zero Polio Cases in Pakistan, after visiting and during his stay in the country. He lauds Pakistan for combating poliovirus.
The billionaire and world's fourth-richest person Microsoft co-founder and philanthropist Bill Gates came to Pakistan to meet PM Imran Khan on Thursday. He lauds and acknowledges the country has progressed against polio.
Bill Gates tweets on Linkedin: Microsoft Bill Gates Praises Zero Polio Cases in Pakistan
After visiting Pakistan, Bill Gates posted his thankful message on his LinkedIn timeline and said that dedicated health workers from Pakistan, partners and the government of Pakistan had made enormous and huge progress
Furthermore, he also emphasized the need to halt virus spread out in neighbor country Afghanistan because Pakistan and Afghanistan have a border in the same region.
Similarly, The wild poliovirus continues to affect children in Afghanistan, and Pakistan has reported zero polio cases in the year while Afghanistan is still facing the poliovirus infection which paralyzes children.
Moreover, Bill Gates posted on LinkedIn that the Global world has overcome and reduced Polio cases by 99%. he stated that he is optimistic that if everyone is keen to reduce and combat poliovirus then we all can have every child with a polio vaccine and end polio.
Finally, we can eradicate polio in the world and every child will be polio-free globally.

In
Afghanistan, Bill Gates, bill gates on, bill gates tweets, billionaire, Coronavirus, COVID-19, eradicate polio, government of pakistan, lauds pakistan, linkedin, Microsoft co-founder bill gates, news desk, Pakistan, PM Imran Khan, polio free pakistan, poliovirus, post on LinkedIn, praises pakistan, zero polio, Zero Polio Case in Pakistan