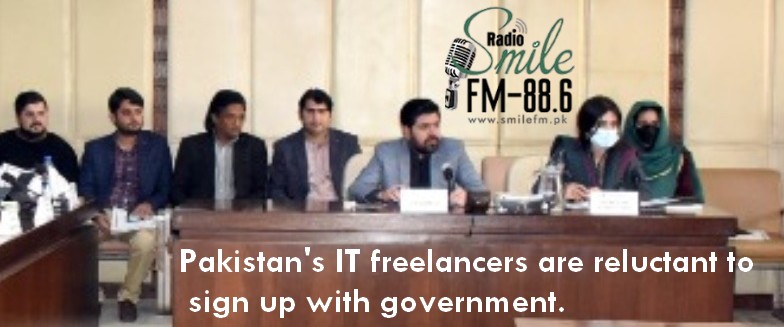 Pakistani IT freelancers are not registering with the government
506 total views
News Desk from ISLAMABAD: Information Technology (IT) of Senate Standing Committee told that despite important benefits being offered to all freelancers of the country where most Pakistani IT freelancers are not registering with the government. They were not interested and reluctant to get registered with the government of Pakistan.
It is being said the country's freelancers are working independently and executing their IT projects for local and overseas clients while working even from home and remote areas. Most of them were earning billions of rupees without any government support at their back.
It is pertinent to mention here that "Mostly freelancers belonged lower and middle-class young generation, and they were playing a vital role to bring dollar in the Pakistan"
Now, Panel of Senate reviews the National Information Technology Board Act.
Moreover, Secretary of IT Dr. Sohail Rajput mentioned that freelancers were in constant touch with him.
Similarly, the registration process of freelancers has begun. If they get registered, they can enjoy tax exemptions. By virtue of trust in the government bodies and functionaries mostly freelancers have separated themselves from the process of registration. he said.
Payment Gateway System for Pakistani IT Freelancers
In this regard, the procedures for local payment gateway systems and international financial transactions have resulted with the State Bank of Pakistan for improvizing the further process of financial transactions and remittances in Pakistan.
Recently, PM Imran Khan had inaugurated the digital city Haripur in Khyber Pakhtunkhwa (KPK) in keeping view vision of "Digital Pakistan".
Additionally, the committee members mentioned that all possible help should be provided to these freelancers. These freelancers are the future of Pakistan and the biggest asset for economic growth exponentially.
Furthermore, the officials stated that the NITB has been working successfully and providing good quality IT services.
Conclusively, the Pakistan Telecommunication Authority chairman had briefed to sell a new spectrum for fifth generation-5G technology in the country, which will be held to launch in 2023.